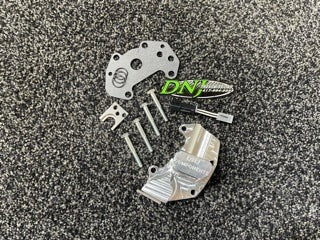 DNJ Components
DNJ-DCF1-NS **NO SOLENOID**
NOW OFFERING WITHOUT SOLENOID SO YOU CAN CHOOSE WHAT BRAND OF SOLENOID TO USE. INCLUDES ASSEMBLY INSTRUCTIONS AND EVERTYHING SHOWN.
We have been producing and selling DCF1 for over 13 years now. Being the original and first on the market to have reliable governor pressure solenoid that has proven itself time and time again to outlast and outperform all others.
This dodge governor pressure solenoid conversion manifold allows the customer to be able to replace their OEM or OEM Replacements with a far more superior and reliable solenoid. This product fits any dodge governor pressure solenoid for 42RE, 44RE, 46RE, 47RE, and 48RE. 
Reliability: No more 2nd gear starts or inconsistent shifts. With this part you can count on years and years of reliability in all applications from pull rigs to drag trucks.
Performance: With this conversion kit the transmission can handle more base line pressure and have greater shift quality. You can increase the line pressure only by adding a performance valve body component kit (SKTFOD-DSL or TFOD-HD2) both are offered on our site.  Increased line pressure does not cause flooding of this solenoid, like what happens with the OEM solenoid.
Durability: With the manifold being made of 6061 Aircraft Grade billet aluminum you will never see warping or leakage of any kind. Also, the GM EPC was built to outlast the transmissions they were designed for.
---
Share this Product